A real shepherd for a comfortable life!
Mecberger Lulu was born on April 19, 2010 in the Finnish nursery Mecberger. Arriving at the age of 2 months, she became an integral part of our life. Giving us 7 wonderful litters, the children of whom went to 18 countries and became excellent companions, and many of them were wonderful sports dogs that achieved results in sports.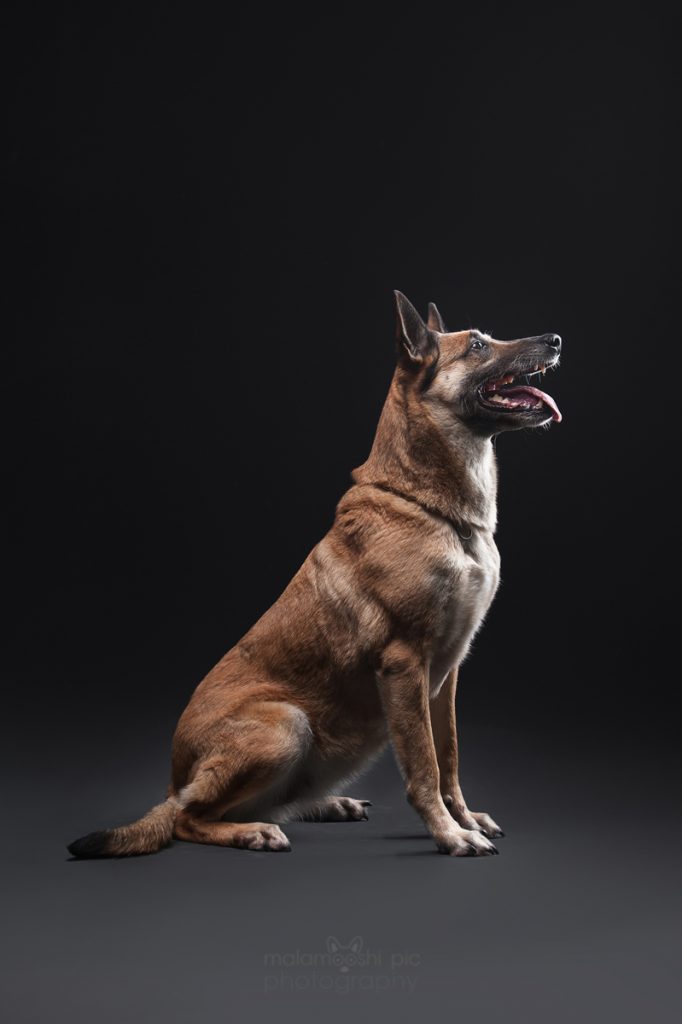 Date of Birth: 19.04.2010
Mother: Aimee vom schnellen Falken
Father: Mecberger Chortoryiski
HD-A ED-0
FH-1, IPO3, IPO2, IPO1, BH-VT
Lulu's success in IPO Sports (IGP) speaks of her excellent working skills that she passed on to children
6-times WM FCI IPO-3 competitor (the Best result – 9 place in 2016)
5-times WM FMBB (the Best result – 7 place in 2013)
6-times IPO-3 Winner in Ukraine
The Best Obedience WM FMBB-2013
The Best Obedience WM FCI-2017.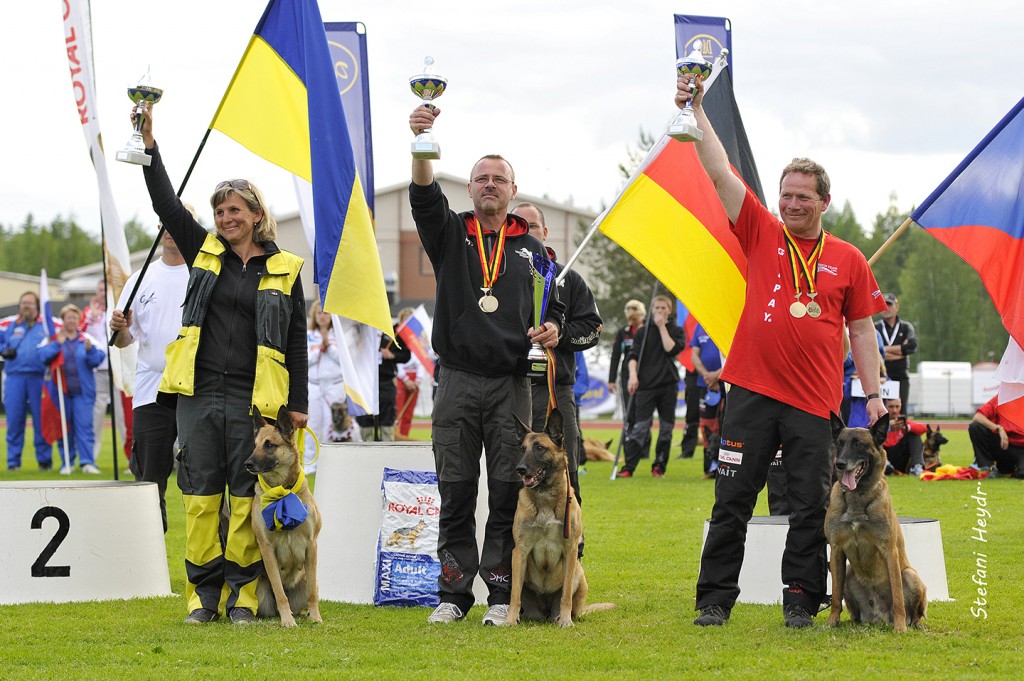 IPO-IGP sport achievements
HD-A, ED-0 (Slovakia 6/05/2013)
Ukrainian Championship IPO3 2018, Berezan- 4 place A:80 B:96 C:97. The Best Protection
FCI WM 2018 Lignano Sabbiadoro 25 place – A:95 B:92 C:85
Winner Ukraine Cup IPO-3, CACIT 2018, Kharkov A:99 B:94 C:94. The Best Obedience
Prize-Winner Ukrainian Championship IPO3- 2017, Romny with Daria Nastevish A:96 B:92 C:88
FCI WM 2017- 36 place Rheine with Daria Nastevich A:92 B:98 C:87
Winner of Vasilkov Cup-2017 в IPO-3,CACIT, Ukrainian FCI Qualification A:90 B:95 C:93. The Best Track.
PrizeWinner of Ukrainian Championship IPO3-2016, Romny with A:91 B:97 C:95
FCI WM 2016 Nova Gorica – 9 place A:93 B:92 C:92
Winner of Ukraine Cup in IPO-3 2016, Dnepr, CACIT A:91 B:96 C:96 Total: 283SG
FMBB 2016 IPO World Cup & World Championship Aubigny-sur-Nère A:81 B:93 C:81
FCI WM 2015 Delémont A:86 B:93 C:94 Total: 273
FMBB WC BSD 2015 Pisek 15 place A:93 B:95 C:87 B Final: 90, C Final: 81,5
IPO3 FCI 2014 Чемпионат Мира, Швеция 20 место – 272 балла (84-95-93)
IPO3 "Agrosoyuz Cup 2014" 32-97-92
FMBB 2014 33 place 81-97-93=271. The Best Obedience.
IPO3 Winner 94-96-96=286. CACIT, CACT. Vasilkov Cup 2014. Ukraine. Judge Igor Lengvarsky, SK.
WM FCI 2013, Czech – 21 place with 96-93-88
IPO3 3 place (Agrosoyuz Cup 2013. Judge SV Rudolf Bohmer (Germany), R.CACIT with 80-98-100
WM FMBB 2013 7 place (Slovenia), with 96-95-90, in final 91-88
IPO3 Winner of "Vasilkov Cup 2013" with 90-95-90, CACIT
IPO1 Winer of "Universal Cup",Boripol 2012 with 99-96-93 (Judge Juergen Ritzi (Germany) и Ad von Yperen (Holland)
IPO1 Winner "Nadezdy Cup 2012", Belaya Tserkov 2012 with 97-91-92 (judge Petr Lengvarsky SK)
Gratsiano breeding progeny of Mecberger Lulu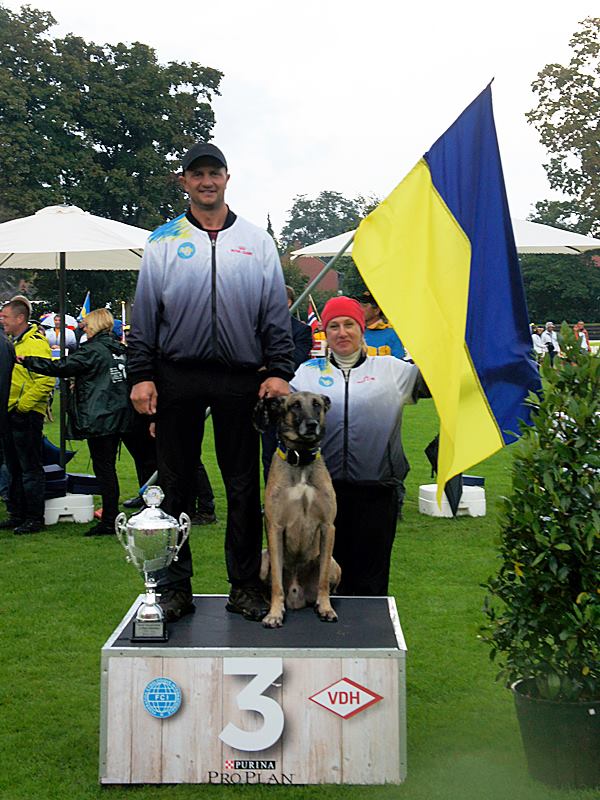 Pride of Ukraine, the only dog ​​that has climbed the podium of the World ChampionshipFCI
Tuz iz Gratsiano
(IPO3, Ukrainian Champion IPO-3 2017, PrizeWinner FCI-2017 in IPO3 in Germany, 4-times competitor WM FMBB (The Best result 14 place in final FMBB), 3-times competitor WM FCI , 4-times Ukrainian Championship Winner)

Turbo iz Gratsiano (IPO3, Russian Cup Winner 2015 по IPO3)
Tor iz Gratsiano (IPO3, Ukrtrans Cup Winner 2017, Universal Cup Winner 2018 in IPO3, 2*Winner in IPO1)
Tigra iz Gratsiano (IPO3, competitor IPO3)
Trefa iz Gratsiano (IPO3, PrizeWinner IPO1, Competitor IPO3)
Uma iz Gratsiano (IPO3, Ukrainian Champion IPO-3 2016, 2018 и 2019, competitor WM FCIin Ukrainian Team 2017 and 2019, competitor WM FMBB 2018 и 2019)
Una iz Gratsiano IPO3
Ulu iz Gratsiano (IPO3, PrizeWinner Czech Championship 2018, WM FMBB competitor in Czech Team 2019)
Ukrainka iz Gratsiano IPO3
Ukrainer iz Gratsiano (IPO3, Champion of Finland 2016 and 2018, competitor and finalist WM FMBB 2017 and 2019 in Finland Team)
Ulet iz Gratsiano IPO3, Competitor in IPO3 in Czech
Uberfal iz Gratsiano IPO3
Ferro iz Gratsiano (IPO3, PrizeWinner Russian Championships 2018, WM FCI 2018 (11 place), WM FMBB 2019 (12 place)
Fora iz Gratsiano (IPO3, competitor in IPO3)
Fair iz Gratsiano (IPO3, competitor in IPO3 in Spain)
Ferz iz Gratsiano IPO1
Holliwood iz Gratsiano IPO3
Harrison iz Gratsiano IPO1
Hummer iz Gratsiano IPO1, IGP3
Honda iz Gratsiano IPO1, competitor in China
Art iz Gratsiano IGP1
Apple iz Gratsiano BH-VT
Alf iz Gratsiano IGP1
AllSrar iz Gratsiano IGP3
Cobra iz Gratsiano BH-VT, IGP1, Winner in IGP1, IGP3
Crocodile iz Gratsiano BH-VT, IGP1, IGP2
Coco iz Gratsiano BH-VT, IGP1, Vice-Winner in IGP1, IGP3
Esh iz Gratsiano BH-VT, IGP1, IGP2, Winner of IGP1 Championship
Euros iz Gratsiano BH-VT, IBGH2, IGP1, Winner of IGP1 Championship
Etuz iz Gratsiano BH-VT, IGP1, IGP2